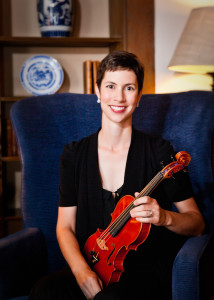 Violinist Anna Genest is a passionate chamber music enthusiast. A member of the Jacksonville Symphony since 2002, she finds the musical freedom and challenges of the Florida Chamber Music Project inspiring. Annual trips to Wyoming, where she is a member of the Grand Teton Music Festival Orchestra are also central to her musical life. Anna holds a master's degree from The Juilliard School, a Performance Diploma from The Mannes College of Music, a bachelor's degree from Dalhousie University in Nova Scotia, and is a former member of the New World Symphony. She has served on the faculties of New York University and the Third Street Music School, and as a teaching assistant to Sally Thomas at the Meadowmount School of Music. In 1999, following her Carnegie Hall recital debut, Strings Magazine enthused, "Her tone shimmered and glowed, and the passagework was brilliant." Anna is also the mother of two young children.
1) Where were you first introduced to chamber music?
I almost do not remember a time when I didn't play chamber music. As kids, my older brother and I played violin and cello duets, and my amateur pianist father played with us, and also used the piano to help me tune my instrument, figure out complex rhythms, and work on ear training. When I was fourteen, fifteen and sixteen, I spent seven weeks each summer at the Quartet Program, run by the well-known violinist Charles Castleman, doing nothing but practicing and rehearsing string quartets. An interesting thing about FCMP is that Laurie and Susan also went there as kids, though the three of us grew up in completely different places.
2) Why do you love it?
I think the summers at the Quartet Program is where I started to love the unique sonority of string quartets, however, it is more recently as a long-time orchestral musician, that I have truly appreciated the level of musical satisfaction associated with playing chamber music. Each musician is fully responsible for crafting a meaningful performance and that is deeply rewarding. I also enjoy the opportunity to experiment and the realization that there can be many successful interpretations of a musical fragment.
3) Why should people come out to a concert?
An FCMP concert is a unique opportunity for audiences in Jacksonville. This music is not just good music, it is the best music that the best composers have given us. This is the War and Peace, Hamlet, and Moby Dick of music. We don't just throw it together either. An FCMP performance represents countless hours of study, practice, and rehearsals, and then we bring it together in an intimate venue where the audience can get close enough to see the music on our pages and can visit with us after the performances.
4) What is special about this season?
I am really looking forward to Mendelssohn's Octet in April. If you think one string quartet sounds good, you should definitely hear the sound of two of them put together. The eight voices of similar timbre, weaving in and out of each other are incredible.
5) How has FCMP evolved over the years?
We enjoy getting to know our patrons. Some of our fans like to sponsor particular repertoire and we are delighted to play their favorites. We are always responding to feedback and requests and will keep working with our audiences towards enhancing our series.