The primary purpose of the Florida Chamber Music Project is to foster and encourage the presentation of classical chamber music; to present and sponsor presentation of classical chamber music by highly qualified professional musicians; to increase awareness of classical chamber music in the State of Florida in general and in North Florida in particular and to provide educational institutions with opportunities to educate students of all kinds concerning the nature and value of classical chamber music and its performance.
For more information, interviews or media resources, please contact Christina Hunt at christina.hunt@elvamarketing.com or call (904) 379-1723.
Logos and Photography
Photography Credits: Jeff Nelson, JHN Photography (jhnphoto.com)
Use of photos and images above is restricted to promotion of the Florida Chamber Music Project unless previous, written consent is provided by the Board of Directors. For usage requests, please contact info@flchambermusic.org.
Founding Musician Bios
Susan Pardue – Violist and Artistic Director
Susan Pardue is a member of the Jacksonville Symphony Orchestra in Jacksonville, Florida. Prior to moving to Jacksonville, she played with the New World Symphony in Miami. A native of North Carolina, she earned a high school diploma and bachelor of music degree from the North Carolina School of the Arts and a master of music degree from the Juilliard School. Her viola teachers have included Sally Peck in North Carolina, William Lincer at Juilliard and Piero Farulli, with whom she studied in Italy on a Fulbright scholarship.
---
Patrice Evans – Violinist and Director of Music Education
Jacksonville Symphony violinist Patrice Evans is originally from Cleveland Ohio. She began her violin studies in the fourth grade as part of a public school music program. Upon entering high school, she became a scholarship student of Cleveland Orchestra members Richard Roberts and Steven Majeske. She won a full tuition scholarship to Florida State University where she studied with Eliot Chapo. She joined the Jacksonville Symphony in 1989. Always eager to give back in honor of the people that taught her, Patrice is very dedicated to music education, teaching in the Jump Start Strings program at S.A. Hull and Pickett Elementary Schools.
---
Annie Morris – Violinist
Annie Morris has been a member of the Jacksonville Symphony Orchestra since 1990. She holds a Bachelor of Music degree from Eastman School of Music, where she studied with Charles Castleman. She has played with other symphony orchestras as well, such as the New World Symphony, Charleston Symphony, Philharmonic Orchestra of Florida, Naples Philharmonic, Texas Opera Theater, Houston Grand Opera, Savannah Symphony, and the Delaware Symphony. In her summers she has participated in many festivals, such as the St. Augustine Music Festival, the Lancaster Music Festival (Ohio), Spoleto Festival (US and Italy), Aims Festival (Graz, Austria), and the Heidelberg Festival (Germany). Throughout the year, Annie brings music to patients' bedsides in a program called Body & Soul.
---
Anna Genest – Violinist
Violinist Anna Genest has been a member of the Jacksonville Symphony since 2002. She has performed at the Spoleto Italy, and Schleswig-Holstein music festivals, and with the Grand Teton Music Festival Orchestra in Jackson Hole, since 2003. Ms Genest has served on the faculties of New York University and the Third Street Music School. She made her Carnegie Hall recital debut in 1999. Strings magazine enthused, "Her tone shimmered and glowed, and the passagework was brilliant." Artists International Presentations subsequently offered the New York City hall of her choice. The Merkin Concert Hall recital enhanced a list of prestigious engagements, including Alice Tully Hall, Steinway Hall, the United Nations and Columbia University. Ms Genest has served as concertmaster of the New World Symphony. She holds a Master's degree from the Juilliard School, a Performance Diploma from The Mannes College of Music, and a Bachelor's degree from Dalhousie University in Nova Scotia. She studied under Sally Thomas for whom she served as teaching assistant at the Meadowmount School of Music.
---
Laurie Casseday – Cellist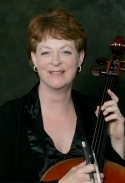 Cellist Laurie Casseday hails from Atlanta, Georgia where she began cello studies at age 8. She holds a Bachelor's Degree with Performers' Certificate from the Eastman School of Music in Rochester, NY as well as a Masters Degree from Georgia State University. Laurie has played in the Jacksonville Symphony Orchestra cello section since 1986, and has also performed with the symphonies of San Antonio, Savannah, Charleston, Chattanooga, Austin, and with Atlanta Ballet and Opera, and Lake George Opera.
On the chamber music front Laurie has performed in venues across the First Coast with Synergy, St. Mark's Bach Ensemble, Brandenburg Ensemble, and San Marco Chamber Music Society, to name a few. While on the faculty at University of North Florida for ten years she was in constant demand to concertized with fellow faculty members as well as with other JSO colleagues. Great joys also come from working as a private cello teacher to students ages 4 to 74, and from coaching young cello sections in the JSO Youth Orchestra Program.
Laurie is married to JSO double bassist Kevin Casseday, and they have two sons, Sam and Pete, who are both aspiring double bassists as well. They make their home in east Arlington.
Guest Artist Bios
Fred Gratta – Cellist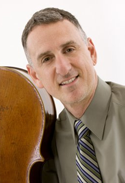 Florida Orchestra Cellist Fred Gratta completed his bachelor's degree at the Cleveland Institute of Music in 1987, where he was a student of Stephen Geber. In 1988, Fred accepted an invitation from renowned cellist Lynn Harrell to join his studio at the University of Southern California (USC), where he completed his master's degree in 1991.
---
Peter Wright – Clarinet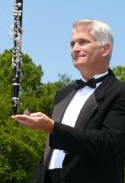 Peter Wright has been the principal clarinet of the Jacksonville Symphony Orchestra (JSO) since 1975. He attended Jacksonville University where he received his Bachelor of Music Education degree and the Eastman School of Music where he received his Master of Music degree. Further studies toward a Doctorate occurred at Florida State University.
Peter has performed at numerous ClarinetFests including New Orleans, Washington, DC, Atlanta, Vancouver, Kansas City, Portugal, Austin, Los Angeles, Baton Rouge and Assisi, Italy. He was the coordinator of the ICA's Orchestra Audition Competition from 2008 to 2011. In January of 2008 he performed the Mozart Concerto, K. 622 on a basset clarinet generously provided by Buffet Crampon. Mr. Wright is a Buffet Artist and a D'Addario Artist. He has an interesting hobby of riding roller coasters around the world. Peter is a member of the American Coaster Enthusiasts (ACE) and during his world travels he rides many roller coasters.
---
Steven Thomas, DMA – Cellist
As a chamber musician, Steven Thomas has performed on 5 continents, including in many of the major concert halls of Europe and the U.S. He was a member of the Wall Street Chamber Players for 25 years and the Cantilena Piano Quartet for over ten years, appearing at the Israel, Tivoli (Denmark), Windsor, Gstaad, Itu, Fortaleza and Prague Autumn festivals as well as Dumbarton Oaks, the Library of Congress and Alice Tully Hall. He has shared the stage with Yehudi Menuhin, Erick Friedmann, David Shifrin, Peter Frankl and Pepe Romero, among others. He joined the Faculty at the University of Florida in 2007, where he has formed the highly successful Helton-Thomas duo with UF saxophone professor Jonathan Helton. Their first CD recording is awaiting release on the Centaur label.
Recent News Coverage